Cloud computing has gained considerable traction over the years, along with technologies like machine learning. With increasing development in the field, it has shown the potential to revolutionize numerous sectors. With federal government agencies pursuing big data analytics, a medium for storing massive amounts of data is necessary, along with a capable conduit for the processes involving big data analytics. This is where cloud-based big data analytics comes into play.
What is
Cloud Big Data Analytics
?

Cloud big data analytics provides organizations with a platform on which they can carry out all data analytics processes. Instead of burdening its in-house servers, an organization or agency uses a third party's infrastructure is. Because the infrastructure belongs to another, its maintenance is also handled by a third party. This simplifies the organization's process and reduces their responsibilities, allowing them to focus solely on performance.
The involved third-party vendor essentially provides the entire infrastructure to the organization, the setup for which they are responsible. This ends up saving time and money in setting up the infrastructure and maintaining it. When another party handles this task, agency employees can better focus on scaling productions and redlining their processes to gather deeper insights.
With the improvement in data analytics tools through the implementation of advanced technologies such as machine learning, there's an opportunity for organizations to hone their operations and scale them by making use of the best infrastructure possible.
Benefits of
Cloud Big Data Analytics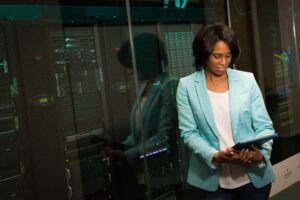 As the scale of operations becomes progressively bigger, organizations are looking for ways to agilely use big data without compromising the quality or scale of their operations. Opting for on-premise solutions forces them to make just that compromise. Cloud analytics offers numerous benefits to organizations and agencies.
1. Improved Work Flexibility 
With remotely located servers or infrastructure, organizations can effectively distribute work. When the entire infrastructure is on an organization's premise, there's less flexibility in working dynamics. More often than not, employees are required to carry out all operations in person on the organization's system. 
Cloud big data analytics offers the flexibility of hybrid or entirely remote work. Since the pandemic, the workplace has changed drastically. Instantaneous access from anywhere has become less about convenience and more of a need. A more distributed work model also facilitates scaling, as employees from across borders with different skill sets can offer unique perspectives to the organization's growth.
2. Collaboration Between Teams
Cloud-based data analytics can be highly collaborative. It includes features such as snapshots of processes, adding commentary to provide context behind a process, or having discussions with team members. This kind of work allows for improvements in collective decision-making as a whole.
3. Centralized Data Storage
Additionally, one of the features of cloud-based data analytics is its ability to centralize data. Usually, in traditional methods of storing data in on-premise systems, data can be scattered across the various systems set up for different purposes. Therefore, getting an overall, cohesive view and understanding of an organization is tough. By centralizing data, cloud big data analytics helps build an integrated, complete view of the organization's processes, which helps maximize insights.
4. Enhanced Data Security
For many organizations, data privacy and security are major concerns when third-party vendors store their data. For this reason, many organizations, especially federal government agencies, hesitate to go for cloud data analytics.
Data security is not guaranteed even if an organization stores its data on-premises. The reinforcement of Software as a Service (SaaS) environments is especially to protect against data leaks and hacks. The risk is far lower as on-premise servers need to be manually configured, leaving more room for errors and loopholes that lead to security risks. Additionally, SaaS operations are subject to strict standards to meet security needs.
Conclusion
Cloud computing has allowed organizations to explore a new world of operations – operations that can happen at a much larger scale than was practically impossible before. As the world grapples with huge amounts of data and making use of it, conducting operations on a massive scale to produce greater insights data available can be made possible by availing of cloud-based data analytics. 
TechSur Solutions can assist you in developing a data analytics platform that can enhance decision-making within your organization. Learn more about data analytics and how it can help improve your agency's operations.