One of the most important tools for any business to use is a CMS (Content Management System)
CMSs are a fundamental asset that allows us to create, develop and maintain a web page, which is why it is important to choose according to the digital content of the website.
WordPress vs Drupal are two of the most common CMS seen on the web. They present different characteristics such as security, the manager's simplicity, variety, optimization, or quantity of plugins.
General terms of WordPress and Drupal
Without a doubt, WordPress is the most user-friendly and intuitive blog builder available today. This is possibly one reason why users tend to prefer it, and it is that its popularity makes it easier to work since there are tutorials, courses, and virtual academies where you can learn to work with this CMS.
The many uses of the services offered by WordPress: e-commerce, blogs, or professional business websites are some of the most general examples of users who use this platform. There are also websites developed in this great CMS for forums, portfolios, events and even E-Learning. Some examples of WordPress-based sites are Mercedes Benz, The New Yorker, Whitehouse.gov, etc.
Drupal, on the other hand, corresponds to one of the best-known CMS worldwide.
Companies such as Harvard, Twitter, BBC, and NBC News are some of the most popular sites that work with Drupal and it covers a large series of web pages such as blogs, personal or corporate websites, forums, E-commerce, or social networks.
Now: Why choose one CMS over the other?
As we have seen, both WordPress and Drupal contain a wide range of very useful features that provide many advantages to design a professional website. Financial benefits, such as adjusting cost, flexibility on production, and freedom to select features, must be considered.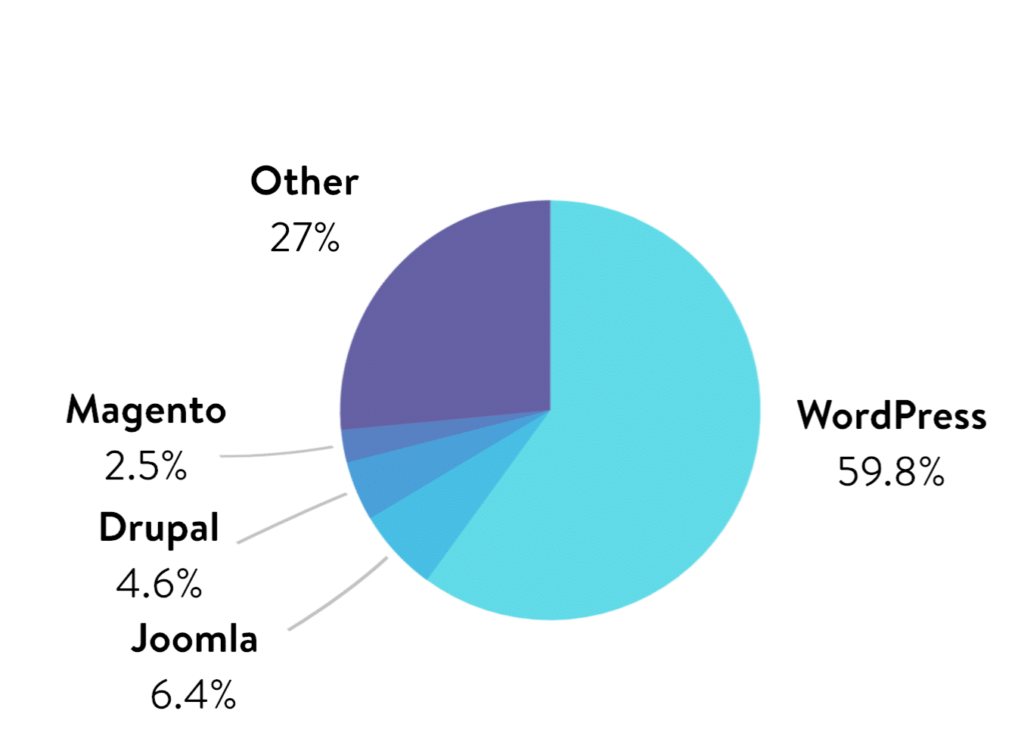 At this point, you may be wondering: WordPress vs Drupal, which one should I choose? Next, we will detail all the characteristics that will help you make this decision.
WordPress and Drupal interface
The interface within a CMS is one of the most critical points since it corresponds to most content creation. Both WordPress and Drupal have a virtual interface, and for both managers, these interfaces present a facility within the platform.
The WordPress interface is one of the most intuitive, which makes it easy to learn to use. It is simple, with floating buttons with which you can modify the blog or website.
Being one of the most used CMS, there is a community of many followers, ready to offer you help if you need it. There are also options to learn how to handle it through blogs or portals made by the people who use it and are part of this "forum".
Although you use programming languages ​​to develop web pages, you do not need to know how to program with code, so almost anyone can start WordPress.
On the other hand, Drupal has a very welcoming and intuitive interface. Like its relative, you will not need to know programming languages ​​to develop and modify your web page.
In conclusion, you can publish new content frequently without changing code lines, adding resources, or managing your website's configuration and appearance that you like the most.
How do WordPress and Drupal work?
WordPress is the most popular CMS on the internet. As we mentioned before, its interface makes it easy to work for beginners or experts. This is a great advantage since you can start a personal project without having to look for an expert in programming or website development, and it is also at a more professional level, companies or organizations that decide to work with this CMS would save time and money in finding a web developer.
Drupal is a more modern content manager (CMS), so not everyone knows how to use or work with it. Its installation requires a little extra knowledge, especially if we compare it with the installation of WordPress.
In conclusion, in WordPress, you can start from scratch and with the free themes, you will be able to present a web page of good quality and with good material, while in Drupal, you will have to go to a web developer since it presents highly personalized or coded themes.
Which is more customizable between WordPress vs Drupal?
Both CMS have a wide variety of customization options, although WordPress has a greater number when we talk about plugins. WordPress brings thousands of pre-established templates with which you can change the website's appearance to give it the most customization according to your website model.
What is the most secure between WordPress vs Drupal?
Even though all platforms can be vulnerable, we can say that both have teams made up of developers to address the lack of security within any website within their power.
Drupal has better security and content management. Some companies have a series or group in charge of the different facets of creating and maintaining a website. This makes the page more vulnerable, as more people have access to it, which can cause more risk against the website.
Due to a lack of skills or personal reasons, a person can add, remove information, or content that leads to the website's deterioration or breakdown. Drupal reduces this risk by only allowing certain users (such as administrators) access to make changes. For some content to be uploaded, it must go through the review of the website's managers or administrators.
In Drupal, the content is previously uploaded to the website, and once it is approved, it is there that it becomes visible to the community or users in general.
WordPress is considered a bit more vulnerable than Drupal. It relies heavily on third party plugins. That is why Drupal is used by government brands that require security and control over their pages.
What are the costs of these CMS?
Whichever manager best suits your needs, you can start both for free!
Drupal is open-source software and is completely free to download, use, and customize your website.
WordPress is a free service where you can start a project from scratch. Although the professional themes and plugins have costs, they have more features: security patches, maintenance, and other extra options. Such is the case of the language options in both managers.
Drupal presents multilingual functions by default, while in WordPress, you must purchase plugins to acquire such a function.
SEO in WordPress and Drupal
Currently, Search Engine Optimization (SEO) positioning is an important factor for any web page. With Drupal, you can generate URLs based on each content. Also, you can connect your website with the profiles of your social networks. WordPress offers an ideal foundation for SEO. Remember that having a good SEO will exponentially improve the traffic on your website.
How does file management work in these CMS?
Some web pages have a large amount of content, from organizations, businesses, entertainment, or government websites. All of these will need management of the content of the web page. Drupal offers content collaboration; that is to say, a group or a series of managers can divide the work since this manager allows it.
Functions or positions such as preview, editing, or programming are the most important and useful tools you can have in this content manager (CMS), ideal for companies that formwork teams for the organization and manage their web content. WordPress also has a service that offers a library where you can upload files such as images or videos.

Which CMS should I choose between WordPress and Drupal?
Creating a web page must go through a series of procedures: Having reliable hosting and owning a web domain corresponds to this process.
The choice of a content management system is essential in this process, and which one that will give life to our websites in every way. The customization, security and loading speed are some of the features and benefits that must be considered when choosing our CMS.
What are the best factors between WordPress vs Drupal?
Although they are platforms with characteristics of great advantages for the design, creation, customization, and maintenance of a website, you must study your website's needs and your availability of resources. Criteria such as financial flexibility, company objectives, and scalability.
For more similarities that Drupal and WordPress have in this context, the managers present marked differences. For example, in WordPress, although the ease of creating content is greater, to carry out a more professional website, you will have to have paid services, such as plugins and themes.
While in Drupal, even if you do not need to invest such an amount of money, you will have to find an expert in this area; since its complexity is greater, although it has characteristics such as content and information management.
Both CMS are useful, and each one has its advantages, so everything will depend on you and the work you will do. Now tell us! In this WordPress vs Drupal which one would you choose? Have you already used one?
Conclusion
WordPress is a common platform for creating small websites to customize and expand with thousands of awesome themes and plugins. If you plan to go with the functionality, you cannot build on your own. It would be far easier to find support and recruit professionals.
On the other hand, Drupal is suitable for more complex websites and other web ventures that WordPress cannot manage. However, to take advantage of all that strength, you will need to be familiar with HTML, CSS, and PHP. You should be a competent programmer if you want to create complex websites with Drupal.
Both Drupal and WordPress have benefits and drawbacks but choosing between them should be quickly based on your objectives. Which option did you choose?