We are immersed in a change of era that impacts all areas of society and the economy due to the technological impact in the first instance. Still, the greatest impact occurs in how people – citizens, clients, consumers, employees – communicate, relate, connect… going from the physical to the virtual naturally and constantly.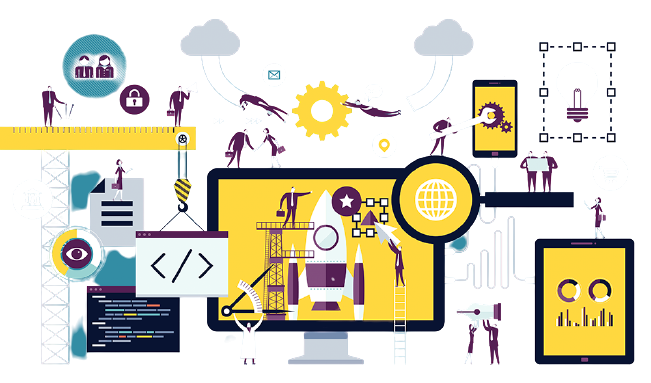 What is Digital Transformation? 
Digital transformation is the integration of digital technology in all business areas, fundamentally changing the way it operates and delivers value to its customers. It is also a cultural shift that requires organizations to constantly challenge the status quo, experiment, and be comfortable with failure.
Digital transformation may involve reworking products, processes, and strategies within the organization by leveraging digital technology.
As such, digital transformation requires an examination and reinvention of most, if not all, areas within an organization, its supply chain and workflow, the skills of its employees, and board-level discussion processes. The directive, customer interactions, and their value to stakeholders.
Digital transformation helps an organization keep pace with emerging customer demands, keeping them going into the future. Digital transformation enables organizations to better compete in an economic environment that constantly changes as technology evolves. To that end, digital transformation is necessary for any business, nonprofit, or institution looking to survive in the future.
Factors driving digital transformation 
Technological advances are changing the business world. This change is faster than we can perceive, and organizations do not always evolve at the same rate. Is your organization already embracing digital transformation?
The market is extremely demanding, and today's business leaders look to new technologies to help improve business results, drive innovation, and promote continuous improvement.
The role of digital transformation is precisely to empower and automate the processes, competencies, and activities in your organization, through the use of IT, to generate a greater impact.
3 fundamental factors drive this transformation in business:
Technological innovations. Which cannot be used at random. It is important to discern if these innovations can add value to your organization and how they will be used since their adoption must be part of the integral digitization process.
Customer behavior and demands. Customers demand more and better technologies to optimize their experience and facilitate their use. It is necessary to study their behaviors and expectations about your business to satisfy and anticipate their needs and discover the areas of opportunity in your organization.
External elements.  Every business is faced with the requirements of the market: competition (ever-increasing), changes in the economy, regulatory laws, and the demands of business partners.
The advantages of digital transformation
Incorporating digitization in all company processes generates undeniable competitive advantages in the short and long term. These are the most important:
Boost the culture of innovation in the company
Improves the efficiency of processes in organizations
Contributes to promoting collaborative work and internal communication
Provides rapid responsiveness in a changing environment
Offer new business opportunities thanks to data analysis
Improve customer experience and their relationship with the brand
Digital transformation can no longer be considered an option. Currently, companies are in need of renewal, adapting to digitization if they want to remain competitive.
Elements of success in digital transformation for companies 
Clear vision
It all starts with planning, which is where goals are set. Your company must be clear about what it will achieve with the digital transformation, its importance at the business level, and customers and workers.
From this account, it is essential to have the proper administration, that is, to have the right leadership to orchestrate the process. Who leads a digital transformation and clarifies the vision they seek to achieve must know how to transmit a sense of urgency to the rest of the organization.
User / consumer experience
Simultaneously, one of the factors that both influence and drive transformation in consumer behavior and demand. Depending on the industry you are in, your customers' demands and expectations regarding your business will change.
Once you identify what these demands and expectations are, you will be able to know what technological needs are that will lead you to satisfy them. In general, customers are demanding greater technological capabilities daily, as well as the desire for ease of use.
One of the most assertive methods in this regard is mapping the consumer journey. Technology has transformed the way the world moves and, therefore, how people behave, in all aspects of life, including consumer habits.
Having a map of the consumer journey allows a clear vision of the customer, which becomes a guide for the company's transformation.
To develop this map, it is important to research the customer and their interaction at each digital and physical point of contact with your business.
Digital Transformation Team
A key in digital transformation is to involve all areas of the organization. Some misconceptions suggest that digital transformation is limited to the computerization of the company's processes, which involves the IT department only or simply implementing an e-commerce platform.
However, it is a process that requires being made up of all the departments of the company. There is a leader, but he must be in charge of interconnecting people from different areas with different roles.
This team will be in charge of facilitating the transformation and monitoring and measuring progress, opening communication channels.
As mentioned before, the focus of digital transformation should not just be technology, but people. This makes it a complex process that requires leadership with empathy, willingness to listen to people and attending to their pain.
Once the digital transformation process is completed, this team can easily become an innovation team, in charge of always staying at the forefront.
Digital Transformation and TechSur 
Digital transformation means that organizations can respond to change quickly. In combination with shared application creation and data and analytics tools, TechSur allows companies to create and operate the next generation's applications that provide outstanding experiences.
In our experience, digital transformation allows for purposeful and sustainable growth in the long term because, in a digitized world, companies must adapt to change to be competitive.