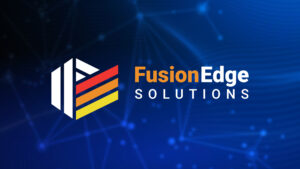 WASHINGTON DC, August 31, 2023 – TechSur Solutions and REI Systems are thrilled to announce the formation of FusionEdge Solutions, a Joint Venture created to support their recent, SBA-approved Mentor-Protege Agreement. The partnership leverages the core competencies of both companies, providing comprehensive technology-driven solutions to the Public Sector.
Rupinder Yadav, President of TechSur Solutions, shares her vision for the JV, stating, "TechSur Solutions has always been committed to providing our clients with advanced technical solutions and emerging technologies. In joining forces with REI Systems, we're combining our industry-leading expertise with their proven track record of successful government IT implementations. FusionEdge Solutions will be a catalyst for change, driving the digital transformation that government entities need in this rapidly evolving tech landscape."
REI Systems CEO, Shyam Salona states, "REI Systems has a long-standing history of supporting government agencies with robust, large-scale IT solutions. This partnership with TechSur Solutions, culminating in the creation of FusionEdge Solutions, opens new avenues for innovation and enhanced service delivery. We are excited to embark on this journey and are confident that our combined strengths will provide unparalleled value to our clients."
FusionEdge Solutions will deliver a wide range of services as a Small Disadvantaged Business (SDB), 8(a) business, Economically Disadvantaged Women-Owned Small Business (EDWOSB), and Women-Owned Small Business (WOSB) across Civilian, Defense, and Health sectors. This union extends the collective experience of two trusted Government Contractors in delivering innovative solutions across the federal government, including agencies such as the U.S. Department of Homeland Security (DHS). The JV can bring new levels of operational maturity through meticulously strategized and impactful digital transformation strategies.
As the Mentor Company, REI Systems brings to this JV its strength in designing and implementing modernized enterprise architecture, systems integration, and agile-based software development and maintenance. TechSur Solutions ensures that the technology is not just powerful, but user centric. As the companies move forward together, they remain committed to developing technology in the public sector that helps improves the lives of people.
For more information about FusionEdge Solutions, please visit: https://fusionedge.solutions
###
About TechSur Solutions
TechSur Solutions is an Emerging Technologies & Digital Transformation company serving Federal Enterprise customers since 2016. TechSur delivers IT Services for Mission Platform Engineering (DevSecOps, Data Analytics, Cloud-Native Application Development), Hyper-Automation (Artificial Intelligence/Machine Learning, Robotic Process Automation), and Multi-Channel Digital Engagement (Website Design & Development, Strategic Communications). For more information, please visit: https://techsur.solutions/
About REI Systems
REI Systems provides reliable, effective, and innovative technology solutions that advance federal, state, local, and nonprofit missions. Our technologists and consultants are passionate about solving complex challenges that impact millions of lives. We take a Mindful Modernization® approach in delivering our application modernization, grants management systems, government data analytics, and advisory services. Mindful Modernization is the REI Way of delivering mission impact by aligning our government customers' strategic objectives to measurable outcomes through people, processes, and technology. For more information, please visit: www.REIsystems.com
Media Contact
TechSur Solutions
Jen Falcone
marketing@techsur.solutions