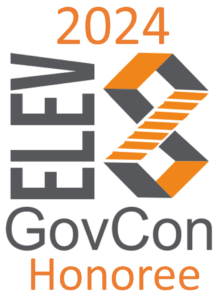 We are delighted to announce that TechSur Solutions has just been recognized as being among OrangeSlices' 2024 Elev8 GovCon honorees! Navigating the intricate web of the Federal GovCon sector is no stroll in the park. It's more like running a tech-marathon while balancing a stack of laptops. But every now and then, someone shouts, "Hey, you're doing it right!" And it feels great!
The Elev8 program represents a select list of federal government contractors which have been identified as #DoingItTheRightWay based on outstanding results in several key areas:
Good Partner – in ways that go above and beyond to provide support, mentorship, engagement, to collaborate, and that bridge the divide, building one successful team to deliver for their client.
Growing Your Talent – with a focus is on what is best for the individual.
Philanthropy – that is driven by its team, by its focus, and by what is happening the world and communities it works in.
Exemplify Innovation – and are guided by principles that understand the status quo is not enough and they must demonstrate they are doing more and doing better.
Industry Engagement – that includes multiple aspects including mentorship, giving of time or services, sharing of intel, and will involve people from across the company and be driven by a desire to give back.
Inclusive and Diverse – finding ways to have those voices heard, for combining those personalities on shared efforts for the betterment of all involved.
Sustainability Practices – demonstrating that everyone must do their part and they have identified and defined ways they can do better for themselves and their government clients.
Investment for the Sake of Betterment – putting money behind their commitment to improving the work environment and experience for both internal teams and as it relates to customer delivery.
We are so grateful to OrangeSlices for putting so much thought into crafting a recognition program, and for being intentional in their efforts to shed light in a complex sector. We are also very thankful to have a dynamic team of dedicated employees and intentional leaders guiding our ship. Let's keep #MakingSomeNoise and push boundaries of what government can expect from technology!
About OrangeSlices AI
OrangeSlices AI. Playful Name. Serious about Democratizing Data and Disrupting the GovCon Competitive Intelligence Market. The core mission for OS AI is to identify, share and create timely, actionable and responsible information and data products, tools and resources that 1) are accessible to all organizations and their teams, small to large; 2) will assist Federal government and Industry IT and consulting leaders to more effectively identify and engage with each other; and 3) shine a spotlight on those leaders and companies that are #DoingItRight.